Lead to succeed
The leadership manual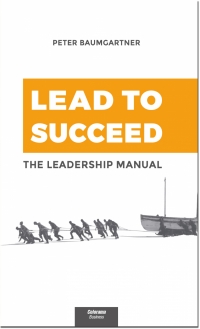 Lead to succeed!

As a Leader you win people over for a common goal, you gain prestige and loyalty, you achieve a greater quality of life and of course you win financially. Your success proves you right.
The future belongs to leadership.
The future belongs to you.
Leadership expert and bestselling author: Lead to succeed!
Peter Baumgartner revives the speaker scene as an emerging leadership expert. The bestselling author and industrial engineer is a speaker that gets booked internationally for conferences, corporate events and for lectures at business schools. His emotional presentation style captivates audiences; his award winning books about leadership complement his lectures. After his studies in Austria, Germany and the UK, Baumgartner has been a consultant to internationally well-known organisations. As a charismatic keynote speaker Peter Baumgartner succeeds to fascinate and motivate audiences. His lectures are about hope and a better life, encouragement and motivation, leadership and innovation. We all need leaders whom people can trust and follow.
Inhaltsverzeichnis:

1. PROLOGUE.
2. LEADERSHIP. YESTERDAY. TODAY. TOMORROW.
3. THE TERM LEADERSHIP
4. WHY LEADERSHIP
5. LEARN LEADERSHIP
6. LEAD TO SUCCEED
7. CHARACTER AND CHARISMA DECIDE
8. PASSION FOR LEADERSHIP
9. EPILOGUE
10. COMMENTS, LITERATURE, SOURCES AND PHOTO RIGHTS

 
Details:
Umfang: 184 Seiten
Format: 12,5 x 20,5 cm
Cover: Softcover, UV-mattlackiert, Prägung, Klebebindung
Autor: Peter Baumgartner
Colorama Business

Ladenpreis:
18,95 EUR

Bestellnummer: 239
ISBN: 978-3-903011-14-4